Your pizzeria in Rouen
Are you looking for a restaurant in Rouen where you can taste the best pizza of the region? You wish to order a pizza that you could eat on place or take it away with fresh and seasonal products? Would you take a seat in a pizzeria that offers typical specialties from the Italian tradition?
For all of those reasons and many more, come to taste the best of Italian pizzas to Margherita, you will have the certainty of tasting 100% homemade recipe, starting by the production of fresh pasta till the selection of the ingredients end the way of cooking.
Which one are the culinary specialties of Margherita pizzeria.
Either if you choose a simple Margherita with her organic tomato sauce San Matteo and her mozzarella Fior di Latte, the more complex Ortolana pizza made with artichoke only during their season, or the original Romana pizza with her pistache mortadella and her buffalo mozzarella, you will make your taste buds spend beautiful moments experiencing a gastronomic discovery.
Starting by the originals Italian recipes or the ones invented by our team of pizzaioli, you will discovery some news by running the menu of our Pizza restaurant in Rouen. Taking advantage of the Italian know-how while preparing your pizzas means being sure of spending a delicious degustation moment, you will be able to do that in Rouen and nearby.
One family meal at the restaurant, with friends or some take away pizzas to join home our relatives, for any kind of evenience, the key is choosing the best ingredients to create the best pizza.
That is all that Margherita Pizzeria can guarantee to you right in the heart of Rouen city.
Margherita

With us, you will eat the typical Pizza from Rome.
For those who have been to Rome they surely have already seen these pizzerias that offers pizza by the slice. It all started in the 60s when the bakeries began to offer pizza in a new way, creating the pizza by the slice, a novelty comparing it to the Neapolitan Pizza. Today we offer the same tradition of 60 years ago with a light, soft and crunchy dough; we prepare classic pizzas with homemade recipes, emblem of the Italian culinary history.
In addition to Pizzas, we also offer classic desserts and appetizers from the Italian rotisserie such as the infamous Supplì at the phone.
Which pizza must be chosen in Margherita ?
Either if you love the simple pleasure of a pizza made by different kind of melted cheeses, a pizza with a taste of summer truffle, a vegetarian pizza or a tasty mix of scrambled eggs BIO and smoked speck on top of a crunchy and soft pizza dough, all those kind of pleasures will be proposed to you by your pizzeria Margherita in Rouen.
For the greediest, we propose you our rich selection of appetizers like the Suppli with cheese and pepper, our meatballs homemade and a variety of typical desserts from Italy like our famous Tiramisu, the well-reputed crostata or our meringue.
You will have the possibility of looking our menu complete with a large choice of pizzas and drinks that will make you enjoy a moment of single degustation that will become the right pretext to try again the experience of discovering several recipes artigianally homemade.
How to obtain the best by the pizza in Rouen?
Either if you wish to eat in place in the restaurant room of Margherita placed at Rouen in Rue du Gros Orologe, right in the center of Rouen or take away your pizza order to comfortably enjoy it in your living room , Margherita will welcome you from Monday to Saturday starting form 11am till 21pm, only to satisfy your wishes.
High quality and low prices that is all we promise you by choosing your pizza in Margherita.
From the traditional Parma pizza with Parma ham, the greedy Pecorino Romano pizza with her eggplants from Sicily, passing by the the refined Polpette pizza made with meatballs using only meat from Normandy, you will have the guarancy of consuming healthy and fresh products.
It is also for this reason that we regularly combine our recipe to make us able to propose you pizzas by the slice as beautiful as the seasonal ingredients.
To choose the best Rouen's pizzas, only one address, the one of Margherita pizzeria.
Our engagements
Italian know-how

Fresh and seasonal vegetables

High quality on point

100% homemade pizza and catering service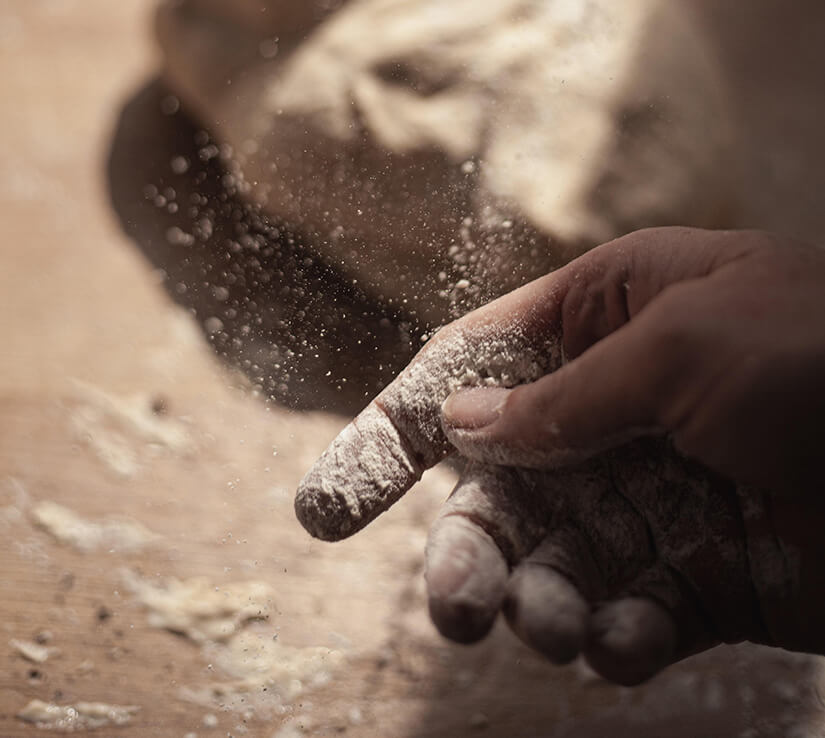 Margherita
144 rue du Gros Horloge, 76000 Rouen
144 rue du Gros Horloge
76000 Rouen.